---
Save Workspace
The Save Workspace feature allows you to save a snapshot of your work that you can re-open again later. When you save the workspace, the following elements are saved to the workspace file:
current image
image size
image position
image orientation
kaleidoscope shape
pinwheel mode setting
background color
To save your workspace, choose the File > Save Workspace… menu item.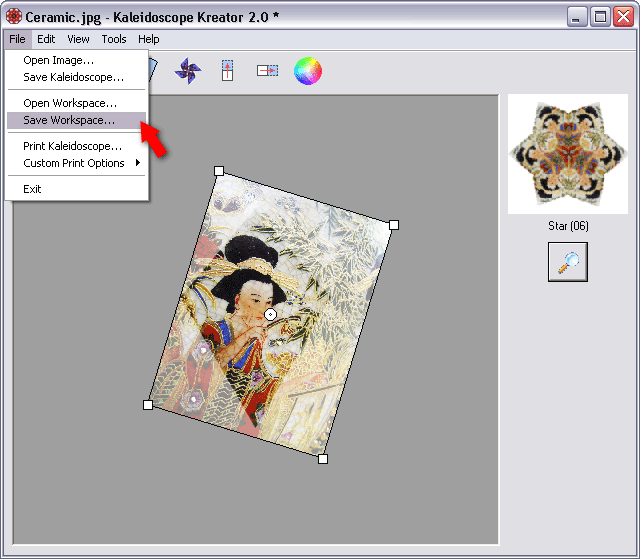 You will then be presented with the standard Windows® Save As dialog box. Navigate to the folder that the workspace file will be saved to, enter the name of the file, and click on the Save button. In this example, the workspace is saved to the file "Ceramic Latest.kkf" in a folder called "My Workspaces". Kaleidoscope Kreator workspace files always have the.kkf file extension.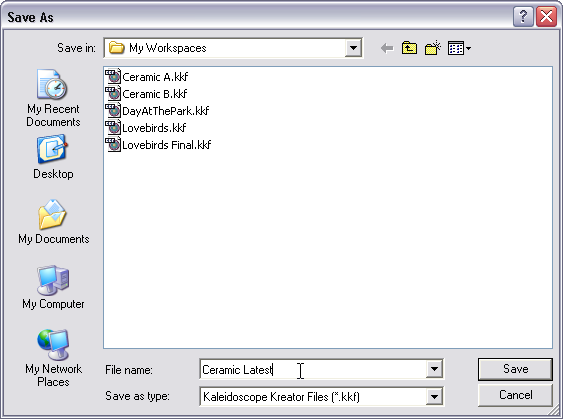 Note: Saving a workspace is different than saving a kaleidoscope. Use the Save Workspace feature to save "works in progress", or to establish a snapshot that you can go back to after experimenting with subsequent changes. In contrast, Save Kaleidoscope is used to save the "finished product" so it can be printed later or edited in another graphics program.
---