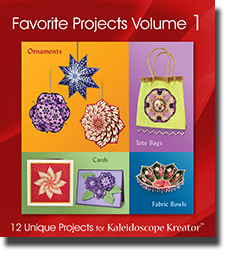 Our Favorite Projects Volume 1 contains fully illustrated, step-by-step instructions for twelve fun projects using Kaleidoscope Kreator 3.
Papercrafters will love making the delicate 3-D ornaments and elegant cards. Scrapbookers can choose from two hybrid page layouts, and quilters will enjoy the keepsake quilt, tote bag and fabric bowl projects. Instructions for eye-catching party coasters and a unique see-thru clock round out the selection of fun projects.
All project sheets are in PDF format for easy printing.
NOTE: The projects included in Favorite Projects Volume 1 are specifically designed for Kaleidoscope Kreator 3. More...